11/27/2001 From a recently discovered librarian blogger New Jack Librarian comes this article about libraries and you said it emerging technologies:
Hi. I'm 
Mita
and I've been blogging since 1999. Of course, this gives me no 'net cred as my first blog, 

Rain Barrel

, was done using Frontpage and hosted on Geocities. Yes, I am a 
librarian
. My main blog is
New Jack Almanac
 (b. 2002) and its largely library-free. 
WEDNESDAY, NOVEMBER 23, 2011
The future in one word: platforms
In this post, I'm going to expand a small piece that I had written in March entitled, What will be the iTunes of ebooks? (it's about what should be the platform for ebooks and why this decision is so very important). One of the reasons why librarians don't talk very much about ebook platform choice is because, by and large, we've already decided the matter. Libraries have made their choice, voted with their dollars and their energies, and have overwhelmingly selected Overdrive as our platform.
Yes, we have outsourced ourselves with an ebook platform that betrays many of the values that the public admires us for in exchange for a user-experience that be described in any variation of the word horrific.
I don't think it's too late to change our minds. In fact, I think there will come a day when we will have to change our minds.
And that's because no platform can out-perform the Internet in terms of speed, participation, and innovation. And while is Amazon.com is very, very large, it will never contain all the reading material that you would like to read.
Like many, many people, I do a tremendous amount of reading all day (emails, activity feeds, blog posts, news articles, and – uh – journal articles) and most of my reading is material is done online. Only a fraction of my reading is deep, slow reading - and only if I have enough strength to read in the 20 minutes immediately before bed. As I have said before, the web is my reading platform and Zotero is my library. 
But imagine this: instead of investing in Overdrive, what if libraries invested in Readbility instead? 
I use Readability myself.  Most of the time I use it as just as a means to read long text on the screen in a less cluttered, more beautiful, more readable way.  Sometimes I use Readability as a means to get long text pieces from the web into my Kindle DX. And sometimes I use it as a way to easily clean up and import documents into my Zotero library.Now, I understand that it's difficult to see where a library would interject itself between the reader, Readability, and the author and publisher.  To be honest, I'm not sure about it myself but I think it's worth thinking about because we need to start thinking about the entire health of the publishing / reading ecosystem before the entire thing crashes and Amazon re-builds on its disrupted remains.
I should say that I'm not entirely invested in Readability as our only hope. There are other options for corporation-agnostic personal libraries, like Calibre. The reader centric services of LibraryThing and Goodreads could develop into something more 'platform like' but it's more likely that a service like Readmill - with its open bookmarking and annotation services – is closer to what I hope could be the reading platform that a library could be proud to invest in.
11/19/2011 From

 
MONDAY, OCTOBER 31ST, 2011
Barcode scanning in Library Anywhere
We've just added a great new feature to
Library Anywhere
—barcode scanning.
Our new barcode scanning feature is available in both the iPhone (and iPod Touch, iPad, other iOS products) and Android apps for Library Anywhere. It lets you quickly scan the ISBN on a book and see if your Library Anywhere library has a copy.
Search more than one edition
The Library Anywhere book scanner is unique in that it searches not just for the exact ISBN you give it, but for any other editions of that title that might be in the library. So you can scan a paperback book with the "now an HBO show!" cover, and Library Anywhere will find the hardcover edition of the same title, if that's what the library has.
Extend your search
It also doesn't limit you to just one library—if no editions of the book are found in the first library you search, it will then give you a prompt to do the exact same search in other Library Anywhere libraries near you, or find the book at an online bookstore.
Scan QR codes
The barcode scanner also can scan QR codes, so libraries using our QR code feature (more about QR codes and Library Anywhere) can scan a code in their OPAC to bring up the record in Library Anywhere.
Available for every library
This isn't an "optimum package" feature. Libraries don't pay more to turn it on. We don't play like that.
About Library Anywhere
Library Anywhere is the mobile catalog and homepage for almost 200 libraries and library systems worldwide. See all the libraries using Library Anywhere by simply clicking the … menu within Library Anywhere and choose "Select a Library." Read more about Library Anywhere here.
http://www.librarything.com/blogs/thingology/2011/10/barcode-scanning-in-library-anywhere/
and from the Omaha World-Herald 
Many uses of technology at libraries
 It wasn't so long ago that the sight of a computer in a library was a novelty. As a graduate student in the mid-'90s, I struggled to figure out how to do research on a computer connected to a giant CD-ROM tower. Today, the thought of a CD tower makes me laugh. Don't get me started on floppy disks! Do you remember moving all your files from a 5.25-inch to a 3.5-inch disk? Last week, a group of school-aged youths literally rolled their eyes at me when I gave them a flash drive! "It's all in the 'cloud,' man."
It is amazing to consider that Omaha Public Library currently has nearly 400 computers in its 12 locations throughout the city and every one of them is being used almost every minute we are open. The need for computer and Internet access in our community is so great that we've added laptops available for checkout at most of our libraries, allowing us to serve a larger number of people despite the fact that we don't have the space or wiring for additional desktop computers. Technology has quickly become a core service in public libraries as Internet access has become less of a luxury and more of a necessity.
Friends often ask me what people are doing on library computers. "Are they just playing games and fooling around?" Well . yes, there is a lot of that. People who use library computers are no different from people who have computers at work or at home. They play games, update their Facebook status, send email, read the news and listen to music. There's nothing wrong with that. Libraries have always been a source of entertainment — whether through a romance novel, DVD or a music CD.
In addition to the fun, there is much more happening on our computers. In big ways and small, people are taking charge of their lives and improving their circumstances.
Recently at the Willa Cather branch, a man requested help to apply for a job. He was new to Omaha and first signed up for his new library card. He wasn't comfortable using a computer and asked for assistance. The staff helped him get familiar using the computer and mouse, and showed him a few job posting websites. After spending the day filling out job applications, he left and thanked the staff for their help and encouragement at a time when he was very discouraged. Six weeks later he stopped in with a thank-you card. He was hired by one of the companies and wanted everyone to know the library had helped him.
At South Omaha Library, a patron asked for assistance setting up an immigration interview. Meetings are scheduled over the Internet and little help is provided. Library staff helped the young woman find the necessary websites and assisted her with scheduling an appointment. She is now a U.S. citizen and a regular visitor to the library.
We don't always know how people use our computers or the difference it might make in their day or life, but we do know they depend on access to technology and the Internet at Omaha Public Library. Beyond that, they also rely on the staff — the people who are there to help. We are grateful to be able to help meet this need in our community and provide opportunities for people to succeed.
Gary Wasdin is the executive director of the Omaha Public Library.
         
 Smartphones in the Library
11/13/2011 The author of this article is an advocate for its use in an academic library.  Please read below:
ACRLog welcomes a guest post from Jane-Rebecca Cannarella, a student at Arcadia University in Philadelphia who completing is her Masters with a focus in School Library Media Specialty.
Finding the right technology to use in the library, particularly the kind of devices that will best suit the largest number of patrons, can be an arduous task when considering the wealth of new advancements that are available. Many of these items can be costly or not intuitive to the user. But two new tools have proven themselves useful and user friendly in all varieties of libraries.
QR codes, or Quick Response codes, were first introduced for use in the auto industry in the mid-nineties. Since then QR codes, which are a two dimensional matrix barcode, have become increasingly popular in libraries. They store URLs and text data that can be pulled from the physical world onto mobile phones. This is done by using the camera feature to take a picture of the code which will be translated through software into text, web addresses, contact or location information, or other pertinent information.
The prevalence of smart phones and mobile devices with internet capabilities is hard to ignore. More and more of the population have access to smart phones, which makes the use of QR codes that incorporate information access and smart phone technology an appealing option for education and libraries. They are low cost options that are user friendly and easy to employ. There are many free QR code generator sites such as Kaywa QR code generator, qrstuff.com, and Deliver.com. Codes exist in a number of spots such as in the virtual world of blogs, online catalogs, and webpages, as well as in the physical world of book shelves and checkout desks.
They can be implemented in a number of ways within libraries. Codes can be used in library stacks to direct the user to supplement online electronic resources, they can be accessed for catalog records to inform the user of location information, or they can link to audio tours. Many libraries are utilizing them to create a more unique user experience. For example, Lafayette College Library used QR codes to create an interactive mystery game to better acquaint incoming freshman to their college library, the students were able to access the scavenger hunt information through the website. Librarians were stationed throughout the library and would hand the students the QR codes upon successful completion of a clue. At UC Irvine the libraries use QR codes within the stacks: the arts section points the user to further browsing within the physical collection, and the math QR codes directs the user to the best ebook collection for their query. Contra Costa County Library uses the QR codes for directing patrons interested in popular books to further reading as well as to market downloadable audio books for those that want to listen while using public transportation. And Sacramento Public Library allows patrons to access reference service information through QR codes.
Through these codes libraries can reach the user in non-traditional locations, this increases library usage frequency creating a stronger sense of community. With increasing patron activity and easy access to the library, even remotely, in mind another free resource that has been successfully implemented in libraries is the use of Conduit.com. Conduit.com allows users to create a library specific application that be accessed on a smart phone, as well as a community toolbar in order to drive traffic and increase patronage for the library. The community tool bar provides continuous access to library resources and services addressing the need for students to use peer reviewed resources available to them without their knowledge.
Since patrons, particularly students, are more comfortable accessing information online in order to conduct research, a toolbar that showcases the what is available at the library will result in accessed data that is valid and reliable. Librarians can provide a visible link to the databases, Twitter, blogs, and ebooks that are available through the library. This increases the use of existing, and paid for, library research and self-service tools that might be ignored by the patrons in lieu of Google searches.
At Arizona State University the web services librarian put Conduits on all the public computers in order to highlight library services to patrons that might not know of the availability of those resources. The Colorado Statue University Libraries use Conduit in order for patrons to have access to multiple library resources simultaneously. The Bush Memorial Library at Hamline University uses them as a way for users to search the catalog and databases without having to go through the library website each time. It also gives the user the opportunity to get customized toolbars for their educational specialty.
The application works in a similar manner: it allows the user easy and immediate access to the library's Twitter, Facebook, RSS feeds, wiki sites, and blogs. It directs the patron to sites and resources that the library offers in a remote setting. Both the application and toolbar claim to be easy enough to create for even the least tech savvy person.
While both QR codes and Conduits rely heavily on smart phone usage, it is in the best interest of librarians to understand how advancing technology can best benefit the library. Free technology that focuses on enabling patrons to have better access to library sources will provide them with more well-rounded and peer-reviewed research, while those patrons that do have access to smart phone technology can reach their library services even when it is not physically available to them. Having this technology at their disposal allows patrons to become a more independent and empowered learners as well as bringing overlooked library resources to the forefront of the users' search. Most importantly, these technologies create a sense of community while broadening the uses of the library.
11/12/2011 From the

 

 comes this comprehensive article on uses of the iPod in education
Posted: November 12, 2011 by Maura Smale in Libraries and Community,Technology Issues.
100 Ways to Use Your iPod to Learn and Study Better
Published on Tuesday 12th 2008f February, 2008
 If you think that iPods are used just for listening to music, you obviously haven't been keeping up with the latest technology. The Apple-developed music player now features all kinds of accessories to help you study better, and now other companies are in a rush to get their designs in sync with the iPod. Pre-teens, college kids and even adults are taking advantage of the educational benefits an iPod affords them. From downloadable podcasts to just-for-iPod study guides and applications, learning on the go has never been easier. To find out about the many different ways you can transform your iPod into a learning device, check out our list below.
Study GuidesStop trying to keep track of all your Spark Notes and endless study guides. Use these programs to upload study materials onto your iPod.
Podcasts and MoreFrom podcasts to audio books and other downloadable learning devices, check out these tools that give new meaning to the phrase "continuing education."
TutorialsThese tutorials will help you make the most of your iPod by showing you how to learn new skills and create your own podcasts.
ApplicationsCheck out these applications and software programs that will make learning with your iPod even easier.
More DownloadsFind even more classes and audio books online here. Then, download them to your iPod and keep learning on your way to class, on the plane to your next vacation or anywhere else you have a few minutes to zone out.
Classroom HelpSupplement your class discussions with iPod tools like StudyGuideGuru and Portable Notes, which will keep your assignments fresh in your head all day.
iPod Learning SupportNew iPod users will appreciate these crash courses in iTunes, podcasting and downloading, while seasoned iPod veterans can find new tricks to maximize their iPod's portability.
Tools and SitesTurn to these websites for access to even more audio books and iPod learning devices.
iTunes UThese top schools offer classes on iTunes U. Start downloading now to listen to Ivy League professors lecture, brush up on your foreign language skills or just broaden your horizons.
MiscellaneousRead below for fun tutorials and podcasts that will enhance your educational experience no matter where you are.
1o/27/2011 From a listserv to which I belong comes the following posting fromBonnie Zavon




bzavon@stanford.edu

concerning new apps from HighWire Publishers:
HighWire Roadmap Includes Rollout of 900+ Mobile Sites by Year‐End
 [http://highwire.stanford.edu/PR/HighWireMobileandRoadmap.pdf]
October 27, 2011 ‐ Palo Alto, CA
With the latest release of its robust mobile platform, HighWire Press will increase its delivery of mobile‐optimized sites from 600 to 900+ by the end of 2011, expanding the opportunities for the community of HighWire affiliated publishers to extend their content and readership in exciting new directions through smartphones and tablets.
The HighWire Open Platform architecture provides the flexibility needed to deliver mobile sites, mobile apps, mini‐sites, and other feature‐rich options for HighWire‐hosted publication sites. Current capabilities in the latest HighWire Mobile release include BlackBerry support, inter‐article navigation, mobile advertising, article/issue search, multi‐journal interface, and voucher service integration supporting institutional tethering.
"Our Publisher community is clearly focused on innovation and execution," said Tom Rump, Managing Director at HighWire. "We are on‐target with a quarterly release plan that will deliver dynamic capabilities above and beyond our extensive mobile program as part of our Product Development Roadmap."
At the recent HighWire Publishers' Meeting, held in Washington, D.C., not only did HighWire unveil its powerful new mobile features, it showcased a series of exciting new products, services and strategic partnership agreements, including a partnership with TEMIS, the leading provider of semantic content enrichment solutions. HighWire also unveiled its comprehensive quarterly Product Development Roadmap. The Roadmap, categorized into five themes − Monetization, Integration, Analytics, User Engagement & Discovery, and Content Enhancements − will allow HighWire‐affiliated publishers to tactically plan for technology updates and direction.
The plan was received with accolades by the audience: "An impressive line‐up of innovative new features and services were rolled out in their first public development roadmap. HighWire is clearly dedicated to making the most of their newly refreshed platform with an aggressive focus on openness, strategic partnerships across the industry and leveraging the latest technologies that will bring us all a step closer to realizing the dream of the semantic web," wrote Lettie Conrad, Online Product Manager at SAGE Publications.
With its latest mobile platform release, enhanced mini‐sites product offering (as demonstrated by the recent ASCO Cancer Portals launch) allowing publishers to repackage content from a variety of disparate sources, and this week's strategic TEMIS partnership announcement, HighWire is extending its cutting‐edge vision, delivering innovation to the evolving scholarly publishing marketplace.
From  
comes this anaylsis on Amazon, its recent innovations and libraries.  
What's New (and Old) at Amazon
Submitted by

 Christopher Harris

 on Tue, 10/11/2011 – 13:16
From the debut of library lending to the release of its first tablet, the Kindle Fire

,
Amazon
 has been making headlines in the ebook world recently. Now it is back in the spotlight with a new kerfuffle over exclusive content deals.
Kindle lending on OverDrive was supposed to be the answer for many of the woes libraries face regarding lending ebooks. Was this a sign that Amazon was finally going to embrace EPUB like the rest of the ebook world? Was OverDrive going to become a more open and easily accessed platform? Maybe not so much.
It isn't all bad. Even though ebooks are being lent using the proprietary Amazon .amz file type (a holdover from Amazon's acquisition of Mobipocket many years ago), libraries don't have to actually purchase the book from OverDrive in the new format. Instead, any books your library owns in OverDrive that are also available as Kindle books from Amazon will be connected and available for loaning via the Kindle. This is a great concept, but the execution of the idea is a bit confusing right now. Patrons who want to read library books on their Kindle end up going through a two-step process. They have to borrow the book from OverDrive and then go to a separate site (Amazon) to download the book and activate it for their Kindle.
While OverDrive and Amazon have made some progress, there are certainly many questions remaining. Bobbi Newman, writing at Librarian By Day, doesn't pull any punches in saying that libraries got "screwed" by this deal. Though I agree with Newman, I also can't help but wonder if OverDrive was playing outside its league when it tried to deal with Amazon. Gary Price from InfoDocket raises some alarming questions about privacy under the OverDrive/Amazon model. Lots of data in lots of places … and the library controls none of it.
All of these questions take on new importance, however, with the latest news that Amazon and Barnes & Noble are in a bit of a tiff over Amazon signing exclusive distribution deals for DC Comics. As the tech blog Engadget reported, B&N pulled print copies of some DC comics and graphic novels from shelves in response to the four-month exclusive deal Amazon signed for electronic editions.
So we have to ask—can we really remain excited and supportive of Kindle lending in libraries when Amazon is also restricting access to electronic content through exclusive deals like this, which lock books into a single, proprietary file format that can only be read through a single company's product line? Is this the bleak future for ebook lending in libraries, with our profession and institutions constantly being trapped between competing business interests? I hope not, but Amazon's locking down content and continuing to embrace its closed file format makes me a bit concerned.
http://www.americanlibrariesmagazine.org/e-content/whats-new-and-old-amazon
10/13/2011 From the Chronicle of Higher Education's Wired Campus comes the following concerns about Smartphones on campuses
Smartphones Present Growing Security Problems on Campus, Report Says
October 12, 2011, 12:48 pm
As technology advances, so do the threats posed to its users and their devices. One growing area of concern for colleges, highlighted in a report released today by the Georgia Tech Information Security Center and the Georgia Tech Research Institute, is the increasing number of attacks on smartphones and their mobile Web browsers.
Smartphones' small screen size and abundance of loosely monitored applications make them particularly vulnerable, says Mustaque Ahamad, co-author of the report,Emerging Cyber Threats.
"The resources we have on these devices are different from what you have on your desktop or laptop," says Mr. Ahamad, who is the director of the Georgia Tech Information Security Center.
Small screens are a problem because they lead to reckless Web browsing. To free up screen space, the URL bar often disappears after the page loads, leaving the user unable to see the Web address after clicking a link. This makes it easier for a user to mistakenly land on a page containing viruses or other malware, including apps that can swipe user information.
Young people, particularly college students, Mr. Ahamad said, are at the forefront of smartphone users, possibly making them more susceptible to these threats. Because they are often more familiar with the devices, they may feel more comfortable than adults when taking risks with downloading apps and using the browser, he added.
This problem will become even more critical over the next few years as smartphone use increases.  Mobile Internet usage is expected to outpace desktop Internet usage by 2014, according to the report.
"The sense is that smartphones are becoming more powerful," Mr. Ahamad said. "They are really computers now, not phones."
In addition to smartphone vulnerabilities, the report noted two other emerging threats aimed at capturing and exploiting user data from any kind of computer. These were search poisoning, or using search-engine optimization to make malicious links appear higher in a search, and the use of stolen cyber data for marketing. Botnets, which are networks of computers enslaved to one remote computer that generally promotes malware, are also becoming more sophisticated as users continue to share more personal information over social-media networks, making it easier to capture this data and sell it to the highest bidder.
Bo Rotoloni, the director of the Cyber Technology and Information Security Laboratory at Georgia Tech and another author of the report, said that we can no longer assume our data is protected by the network security systems.
"Our best defense on the growing cyber war front," Mr. Rotoloni said, "is found in cooperative education and awareness, best-of-breed tools and robust policy developed collaboratively by industry, academia, and government."
 http://chronicle.com/blogs/wiredcampus/smartphones-present-growing-security-problems-on-campus-report-says/33627?sid=wc&utm_source=wc&utm_medium=en
09/19/2011 From  comes this article surveying how iPads are linked to students' achievement.  Just remember that it is coming from Apple.
Students using the Apple's iPad for their studies have been found to score higher than their paper-based peers and enjoy higher efficiency, according to a new study.
By Josh Ong
Published: 01:13 AM EST (10:13 PM PST) Monday, September 19, 2011
Abilene Christian University has been conducting extensive studies on the effects of mobile devices on student learning for more than three years. Prior to the launch of the iPad, the university undertook an initiative to hand out iPhones and iPod touches to incoming freshmen.
The university's iPad-specific research results are "uniformly positive," as noted by TUAW after a preview of the data. One study found that "students who annotated text on their iPads scored 25% higher on questions regarding information transfer than their paper-based peers."
Researchers who tracked ACU's first all-digital class noted that the iPad promotes "learning moments" and helps students to be more efficient with their time. Graduate students in an online program responded with a 95 percent satisfaction rate to online iPad-based coursework.
Apple has seen quick educational adoption of its touchscreen tablet device. Earlier this year, Georgia legislators revealed that they were considering plans to get rid of conventional textbooks in middle school classrooms and implement iPads.
"Last week we met with Apple Computers," State Senator Tommie Williams said in February, "and they have a really promising program where they come in and their [sic] recommending to middle schools – for $500 per child per year, they will furnish every child with an iPad, wi-fi the system, provide all the books on the system, all the upgrades, all the teacher training – and the results they're getting from these kids is phenomenal."
Schools from around the country, including New York, Illinois, Virginia and California, have begun pilot programs to bring the iPad into the classroom. Programs implementing the iPad range from middle schools and high schools all the way up to medical schools. The Chicago public school system has seen gains as much as 50 to 60 percent in reading math and science in classrooms with the iPad.
Last year, Apple introduced volume educational discounts for applications on the App Store in hopes of increasing iOS device adoption among educational institutions.
Apple recently reported that total downloads of its iTunes U initiative, which offers print, audio and video downloads of school courses and lectures, have topped 600 million.
According to UBS Investment Research analyst Maynard Um, the iPad has become a popular choice for students and faculty. His retail channel checks also indicated that non-iPad tablet sales have continued to lag.
Apple has expressed interest in new technology that would help users tailor the company's devices to accommodate unique disabilities and special needs. During the unveiling of the iPad 2 earlier this year, the company highlighted in a video the fact that the iPad has been used to assist children with autism and help students interact with content in a new and unique way.
 http://www.appleinsider.com/articles/11/09/19/university_study_finds_students_with_apples_ipad_perform_better.html
09/18/2011 From

 
comes this article on use of iPads and Special Education
iPad Revolution In Special Education
commentary by Shelby Till | September 13, 2011
Finally, the education system may have a solution that helps special needs students keep up with their classmates: the iPad! Even though the iPad and other tablets are fairly new in the technology world, it seems as though they are making great strides in helping people with disabilities, especially students. Each tablet is able to be customized to fit the needs of each person, no matter what their disability is. They are also lightweight, easy to transport and have a larger screen, which makes the information on the screen much more visible. A growing number of teachers and parents say that these tablets give the kids a sense of belonging in the large, ever-growing technological community. Apple reports that there are currently over 40,000 educational applications (apps) for students of all ages.
Many schools have been surprised by the results that the iPad has brought these children, so much so, that they are planning pilot programs for all of their students, not just those with special needs. The tablet is a great tool for students with autism and various communication disorders because they are able to use different apps to communicate their needs and interact with others.
"These children can access and enjoy everything a typically developing child would enjoy — they just have to access it differently," says Gina Shulman, a social worker at the Lehmann Center, a special-needs school in Lakewood, N.J.
Students in Zeeland, Michigan are beginning the school year with 3,100 new iPads, as a result of a $5.3 million bond issue. $1.5million of the bond will be used for the tablets, says David Barry, superintendent of Zeeland Public Schools.
Kentucky's Warren County public schools started the school year with 400 iPads. An additional 150 tablets have been purchased since, the district confirmed. This is after seeing how well the students have taken to the tablets.
Monte Vista Christian School in Watsonville, California, says the purchase of 840 iPads for students in their high school and middle school will cost about $546,000. The tablets; however, will eradicate the need for a number classroom materials. The school estimates to save over $60,000 in photocopy and textbook costs within the first year alone, headmaster Stephen Sharp says.
People are even beginning to create groups supporting the use of iPads for people with special needs. SNApps4Kids is a group of parents, therapists, teachers, administrators and experts sharing their experiences involving the Apple iPad, tables and all other touch devices to help special needs children of all ages. The group states that these devices are revolutionizing the lives of children, adults and seniors with special needs.
Jeremy Brown, a teacher for autistic elementary school students, is currently moderating the Facebook group iTeach Special Education, working together with other educators on the podcast EdCeptional and coauthoring the blog Teaching All Students. Even though the use of the iPad has not yet been approved in his school district, he considers the iPad a large supplemental technique of instruction, approximating 80 to 90 percent of his students with autism see great results when using these devices. Brown looks forward to his school district and others across the country utilizing iPads in the classroom.
Shelby Till is a writer and content editor for 360 Education Solutions
http://www.360-edu.com/commentary/ipad-revolution.htm

09/01/2011 For how technology is being used for Information Literacy in a college in West Virginia see the Information Literacy Page
Created and curated by

 Marie Kennedy

. 
Marie Kennedy curates this topic from blogs, tweets, videos and much more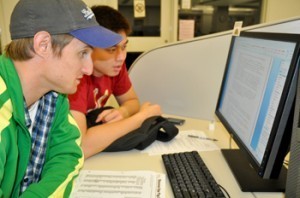 Daily Trojan Online USC Libraries adds digital resources Daily Trojan Online Search · (Senior Alwin Sasmita and junior Oivind Naess access one of the computers at Leavey Library that will soon feature new online resources). 
8/18/2011 From the the Go Librarians writing about libraries and the info society
Let's Make a List: Foursquare in Libraries
Back in June, I read a piece about how the Brooklyn Museum is

 using Foursquare 

to make connections among visitors to the facility. I wondered whether other institutions, particularly libraries, have done something similar–designated an entire web page to Foursquare activities.
So I tweeted a Google doc and asked how libraries are using Foursquare. The limited response suggests that either no one is reading my tweets, or not many libraries in my network are using Foursquare (or both). In any case, here are the replies I received:
My first introduction to Foursquare was through a webinar sponsored by the Connecting to Collections Initiative given by Nancie Ravenel of the

 Shelburne Museum in VT 

and blogger

 Colleen Dilenschneider

.  Shelburne uses Foursquare, but to my knowledge, it is not 

incentivized.
Surprise giveaways: Via Twitter/Facebook, first five people to check in get an ebook
Our public library gives prizes to people who check in on certain days or at events. We've gotten more people to show up for certain programs this way–giving away ebooks, signed book copies or other autographed materials to people who check in at author events or other programs.
You can give out things with library logo/slogan (shirts, iPad/iPod covers?, totes, pens/pencils, mousepads, mugs, calendars, etc.)
If these replies and the several tweets I received are any indication, awarding users with schwag appears to be the prominent use of Foursquare in libraries.
Care to add to the list? Have you found more creative ways to use Foursquare in the library or other institution? How successful have your programs proven? How have they failed? Please share.
http://golibrarians.wordpress.com/2011/08/15/lets-make-a-list-foursquare-in-libraries/
8/12/2011 Open Icon Library has numerous resources for librarians 

here are just a few.  Check out the website for more info at the URL. These contributions were made by colleagues in my Listserv.  I thank them for the information, hope it is helpful

Project Information
Online Icon Gallery: Browse the icon library online
About this project:
A free and open Icon collection. Over 10,000 Unique Icons. Free for anyone to use on you computer, website or any other project. The library is not a theme. Its a centralized source for icons to cover all your needs. The goal is to cover all common apps, operating systems, mimetypes, devices, and country flags.
Whats included:
2272 application icons 258 International flags icons 238 Device icons 69 Operating system icons 731 Mimetype icons 596 Action icons 273 Status icons Open Icon Library-full v0.10
Statistics:
Total icons: 137,396 Unique icons: 10,787 Unique PNG: 10,489 Unique SVG: 3,723 Open Icon Library-full v0.10
Goals:
Offer a consolidated source of icons for people to custimise there desktop, as they wish, without relying of a single theme. Offer a free resource for developers looking for icons to use in there free/open projects.
Free/Open Source Icons:
All these are icons are free and open source. That means they are free to use, modify, and redistribute, without any cost. They can be used for commercial and non-commercial projects or products, royalty free. The only requirement is that they remain free and open source, and you have to give credit where credit is due. So if you use the icons in your project, you have to offer the icons or any derivatives of the icons with the same free/open license. How to use free/open icons
Public Domain Icons:
Some of our icons are Public domain. They can be use, modify, and redistribute, without any restrictions. They can be used for commercial and non-commercial projects or products, royalty free. For more info See: Wikipedia: Public Domain http://openiconlibrary.sourceforge.net/
Another source for icons is the following site:
The Bridge Material Type Icon Set
Overview
The Bridge Material Type Icon Set is designed for online library catalogs and other repositories for quick, intuitive visual identification of material types. It is intended to be a professionally-designed free, open alternative to proprietary icon sets.
The Icons
URL http://apps.carleton.edu/campus/library/bridge_icons/

We're Disrupted, We're Librarians, and We're Not Going to Take It Anymore
From the Centered Librarian: 
MONDAY, AUGUST 01, 2011

From The Chronicle of Higher Education on Open Access:
July 31, 2011
Rogue Downloader's Arrest Could Mark Crossroads for Open-Access Movement
http://chronicle.com/article/Rogue-Downloaders-Arrest/128439/
From the lone wolf librarian's weblog:


Meredith Farkas on Mobile Services and the Mobile Library Future
Submitted by Daniel A. Freeman on July 11, 2011 – 9:18am from ALA TechSource
If you try to keep your library on the cutting edge, you probably know Meredith Farkas. Meredith, Head of Instructional Services at Portland State University in Oregon and an adjunct faculty member at San Jose State University's School of Library and Information Science, has been writing about social networking, libraries on the web and mobile technology just about as long as anyone. Later this month, Meredith will be facilitating the ALA TechSource Workshop 
Delivering Innovative Mobile Services through Your Library
, where she'll provide practical guidance on how to establish and/or enhance your library's mobile presence and services. I spoke with Meredith about what Mobile can do for the library, libraries that have already implemented interesting services and programs, and where she sees this all going in the future. Whether your planning on attending the workshop or not, check out what she has to say.
Dan Freeman: Okay, so it's no secret that mobile is everywhere—iPhones, Tablets, etc. It seems like one big issue (and this isn't specific to the library world by any means) is that these devices can do so much that for people who aren't big-time techies or who don't have a specific ideas in mind when they buy the devices, it's hard to know where to get started. What are your basic suggestions for the mobile device newbie on how to get started and make your device work for you?
Meredith Farkas: 
People use their smart phones and tablets for such a variety of things. I think each person needs to figure out what they want to do on their phone or tablet versus their PC, because it's different for everyone. For example, I never use my smart phone to follow my social networks whereas many of my friends only use things like Twitter, Facebook and Foursquare from their iPhone or other mobile device. I have friends who primarily use their tablet as an eReader and movie viewer. I primarily use mine at work meetings to take notes and pull up relevant documents. Then, at home, my toddler son uses it to play air hockey and watch Sesame Street videos. The key, I think, it is to try out apps (especially free ones) and figure out what is a good fit for you. But don't limit yourself to looking at apps through the app store. Both Apple and Android app stores are notoriously terrible for anything but a known item search. Lots of tech websites and blogs will list top mobile apps for different purposes and those are usually pretty good places to get ideas. There are also websites that specialize in reviewing new apps. Apps are usually free or low cost, so it's easy to give them a try and see what sorts of things you really want to do on your device.
DF: So for librarians specifically, what do you see as the key obstacles that must be overcome when it comes to providing services to patrons via mobile devices?
MF: 
I think one of the biggest obstacles is simply knowing where to start; what mobile services to provide to patrons. There's often a big gulf between what is cool and what patrons need and want. What aspects of the library website do patrons want to access from a mobile device? What types of smart phones do patrons have? What unique collections might patrons want to view through a mobile-friendly interface? Are patrons using apps? QR codes? Augmented reality? There are so many exciting technologies out there, but the focus ultimately has to be on where our patrons are and what we think they actually need and will use. And that requires surveying our population. Another major obstacle is the lack of interoperability. People are using so many different kinds of devices and a website or web app that works well on one may not work well on another. At our library, my colleagues are currently testing our mobile site with different types of mobile devices and they're finding that some features, like the chat widget, don't work on certain types of phones. And with building apps, it's even more difficult as you have to design for a specific operating system and (sometimes) form factor. It can be frustrating to design mobile services in this kind of environment.
DF: In your workshop, what tools will you provide librarians with to help overcome these challenges?
MF: 
Well, I certainly wish I could fix the interoperability problem! I think starting out with a macro-level view of the mobile landscape is key to making good choices when it comes to mobile services for patrons. You have to understand the full range of what's out there, what's available, and what's being developed in other sectors to realize the full potential of what you can do in your own library. In the first part of the workshop, I focus on trends in mobile technologies that librarians should be aware of when they consider what they might want to do at their library. This includes both technology trends and demographic usage trends. I also discuss strategies for keeping up with this rapidly changing area. The second workshop is focused more on practical applications in libraries. I'll be showing lots of exciting library examples and discussing strategies for successfully implementing mobile services in libraries.
DF: Can you give us just a couple of cool examples of the types of services some libraries are already providing?
MF: 
Sure! I think 
WolfWalk
 at North Carolina State University is a brilliant tool for making history come to life for students and faculty. It's a location-aware mobile site and iPhone app that lets users explore historic photos of NCSU. Users see their location on a map in relation to buildings with geotagged historic images of the location. This allows people to see how the specific place where they're standing has changed over time. It connects them to the history of the campus and also exposes special collections materials to audiences who may never have seen them otherwise. I really am excited by some of the uses I've seen of QR codes in libraries. A QR code is a 2D barcode that users can scan with their camera and that can be programmed to send the user to a website, dial a phone number, pull up a video or image, and more. Some libraries are using them to create scavenger hunts to orient users to the library, where each QR code will give the patrons the next clue. Others have QR codes on the stacks to take users to the mobile catalog or to bring them to research guides related to that part of the stacks. The 
Contra Costa County Library
 received a grant to put QR codes on popular books that links the user to read-alikes. A university in the UK used QR codes to link users from the physical version of a journal to the electronic. I feel like this technology has so many exciting potential in libraries and I can't wait to talk about the many, many others at the workshop.
DF: Can you do this stuff without breaking the bank?
MF: 
Absolutely! True, some of the things I mention require money and/or people with serious technology chops (augmented reality apps being a notable example), but most require little-to-no money and only a minimal amount of tech-savvy to deploy in your library. Lots of librarians are using mobile technologies that cost absolutely nothing in reference, instruction, and the marketing of special collections materials. The average librarian may not be able to build the most sophisticated mobile website, but even a basic mobile site that provides the information patrons need is better than a site that is not really accessible on small screens. And just within the past year or so, lots of companies are now offering services to mobify a library's catalog and more and more database vendors are coming out with mobile friendly sites. The barriers to developing mobile services have come down significantly.
DF: To me, the coolest thing about all this is that for all the new possibilities that have emerged in recent years, we're still only at the beginning. As this technology evolves and expands, in what ways do you see it radically transforming libraries?
MF: 
There are so many ways that changes in mobile device usage is going to change libraries. Right now, we assume that most people using smart phones don't want to access all of the functionality of a library website on their phone. How many people really want to search the databases and do serious research from their phones? And we have based our mobile website design choices on that assumption. But some of the trends in mobile usage and adoption — especially the huge growth in mobile web usage among Blacks, Hispanics and lower income Americans — make me wonder if this will continue to be true. In the future, it is very possible that for many people, their mobile device will be the primary way they access the web. This means that we will need to change our strategies regarding mobile library website design and reorient ourselves towards creating a mobile-friendly research experience. This is going to create big challenges for both libraries and our vendors. Right now, we are limited in our deployment of mobile services by what our patrons have and are using. As adoption of things like QR codes and augmented reality becomes more common in this country, I can imagine so many exciting applications in library instruction, readers' advisory, special collections and more. If you know that everyone in your information literacy class is going to have a smart phone, there's so much you can do to make the class more interactive through mobile computing. You are so right that we're just at the beginning and I honestly feel like the future of mobile computing is wide open and so much is likely going to change over the next five years that we can't even anticipate right now. The key for librarians is to keep an open mind, keep your ear to the ground, and keep an eye on what your patrons are using. You can register for 
Delivering Innovative Mobile Services through Your Library
 at the 
ALA Store
.
http://www.alatechsource.org/blog/2011/07/meredith-farkas-on-mobile-services-and-the-mobile-library-future.html
6/28/ 2011 I came across this website with a lot of great resources that I thought would be useful to the novice web page designer.  Hope it is helpful!
WebReference.com: Web Development and Design Tutorials, Tips and Reviews
Latest articles:
---
The Chronicle reports that college campuses are moving away from mobile apps and moving toward mobile web sites.  Read on
images.google.com
Marie-Claire Forgue W3C Head of European Communications World Wide Web Consortium
As Mobile Devices Multiply, Some Colleges Turn Away From Building Campus Apps
http://chronicle.com/article/As-Mobile-Devices-Multiply/128060/?sid=wc&utm_source=wc&utm_medium=en
From the same issue of the Chronicle Prof Hacker's team does it again with hints on
Using Keyboard Shortcuts in Google Tools
June 27, 2011, 8:00 am
http://chronicle.com/blogs/profhacker/using-keyboard-shortcuts-in-google-tools/34306?sid=wc&utm_source=wc&utm_medium=en
6/20/2011 Another wonderful slideshare presentation on using Mobile Technologies in our libraries. Don't miss it. It is very informative and claims that in 5 years there will be no more desktops. Read on, just click on the link below:
 Experimenting with mobile technologies in libraries
 View more presentations from Jo Alcock
6/26/2011 The Keynote speaker at ALA's Conference this week provided this Slideshare Presentation as to how libraries can and need to incorporate mobile technologies into our libraries. Press on the link to see the demonstration.

Developing a Learning Strategy for Mobile and Social (Keynote) View more presentations from Jeremiah Owyang
June 24,2011 The University of Minnesota Duluth provides these resources for web design.  You might want to join the listserv.
Web Design References
6/18/2011
Hat tip to Misae Richwoods (@minxymoggy) for the link
Shortened URL  http://bit.ly/jLQCqu
Here is a presentation explaining QR codes
http://successfulteaching.blogspot.com/2011/06/unveiling-mystery-of-qr-codes.html
6/11/2011  A presentation by Slideshare–follow the link for the presentation
Role of Emerging Technologies in keeping the Library current
View more presentations from Heather Lambert
http://www.slideshare.net/heatherneptune/emergingtechfinal-8200232
Another Slideshare called
Conquering the Myths of Technology and Learning
is a wonderful expression of how technology can have a positive effect on society and our youth, please watch this you will enjoy it as I did.  Here is the link:
View more presentations from George Couros
http://www.slideshare.net/gcouros/conquering-the-myths-of-technology-and-learningTo contact the creator of this slide show: georgecouros@gmail.com Email – gcouros@psd70.ab.ca Twitter – @gcouros Blog – georgecouros.ca
6/11/2011 The Library of Congress brings us this information:
6/9/2011 If have ever come across a reference question that has you "stumped" there is somewhere you can go for answers which is called:
Project Wombat
"Project Wombat is a discussion list for difficult reference questions, continuing in the tradition of the now-defunct Stumpers list. Anyone may join, or submit a question. There are three versions of Project Wombat:
Project Wombat "Classic"

The Classic list is semi-moderated, with posting guidelines and so forth, but as long as everyone is civil, there is no attempt to worry about the volume of mail involved. Most people opt for the Classic list.

Project Wombat Open

The Open list has no posting guidelines, so potentially the Open list can sustain more controversial discussions. This version of the list was created because of the occasional accusation on the old Stumpers list that any moderation at all was too restrictive.

Project Wombat FM

The "FM" stands for "Fully Moderated". The FM list is the opposite of the Open list: anything not directly related to the purpose of the list is not distributed, and an attempt is made to eliminate redundant posts, or tentative answers. This version was created in response to the many people who unsubscribed from the old Stumpers list saying that they wished to continue contributing, but found the volume of mail to be exhausting.
To subscribe, go to http://lists.project-wombat.org/listinfo.cgiand click on the version you prefer. (That's also where you can find the list archives — currently extremely truncated — and the subscription configuration options.)"
Speaking of Geeks, The Chronicle of Higher Education posted this yesterday
June 5, 2011
9 intriguing summer reads (and a video) about technology's turning society [and libraries] upside down
http://chronicle.com/article/Geeks-at-the-Beach-10-Summer/127762/?sid=wc&utm_source=wc&utm_medium=en
Just a General Interest Blog.
How to be a techy! 6/5/11
http://www.aagneyam.com/blog/?p=466
The Bib Blog comments on the fate of MARC
York University Libraries Bibliographic Services, June 1st, 2011
http://www.yorku.ca/yul/bibserv/blog/?p=429
From Highwire Stanford University
SAGE Journals Going Mobile with HighWire
Thousand Oaks & Palo Alto, California – 1 June 201 SAGE is pleased to announce that their entire collection of online journal sites will soon be available in a mobile-optimized format, taking advantage of the HighWire Mobile Web interface. Readers visiting a SAGE journal site on their iPhone, Android or other smartphone device will automatically be redirected to the mobile version. "We've been observing an increasing amount of mobile usage of our journals online. At the same time, our librarian customers are looking to improve web browsing for their patrons who access their online content using a smartphone," said Jayne Marks, Vice President and Editorial Director, Library Information Group at SAGE. "HighWire's mobile web design is perfectly suited for those who read on the go. We're excited to better serve and engage those readers across all the SAGE journals in the coming months." "HighWire designed the mobile-optimized sites to serve the 'looking up and keeping up' habits of mobile users," noted John Sack, HighWire's Founding Director. "Our goal is to help readers find the information they need quickly, offering them a streamlined set of features and tools. When you only have a reader's attention for a short period of time, in a small space, you want every minute to count." "HighWire, in collaboration with SAGE, identified an opportunity to provide better mobile tools for end users," said Tom Rump, Managing Director of HighWire. "We devised a series of innovative, mobile solutions to meet the needs of the scholarly community and are delighted that SAGE is taking advantage of this product offering." Each of SAGE's 600+ mobile journal sites will soon deliver an optimized experience designed for the smaller screen of a smartphone. The sites will feature the essential aspects of the online site, including the full-text content of the current issue, archives, and OnlineFirst articles, and will offer a simplified search, authentication, and sharing tools, all the while maintaining a sense of continuity with the desktop version of the sites. – - – About SAGE SAGE is a leading international publisher of journals, books, and electronic media for academic, educational, and professional markets. Since 1965, SAGE has helped inform and educate a global community of scholars, practitioners, researchers, and students spanning a wide range of subject areas including business, humanities, social sciences, and science, technology, and medicine. An independent company, SAGE has principal offices in Los Angeles, London, New Delhi, Singapore and Washington DC. www.sagepublications.com About HighWire Press At the forefront of strategic scholarly publishing, HighWire Press provides digital content development and hosting solutions to the scholarly publishing community. A division of the Stanford University Libraries, HighWire has partnered with influential societies, university presses, and other publishers since 1995 to produce the definitive online versions of high-impact, peer-reviewed journals, books, reference works, and other scholarly content. The distinguished HighWire community shares ideas and innovations in publishing through regular meetings, an active discussion forum, and through the service of its highly qualified staff. The underlying infrastructure of HighWire's electronic publishing platform is Web-services-oriented, flexible, and permeable, allowing publishers to easily layer new software and services to their sites that will meet the ever-changing needs of today's online and mobile readers. http://highwire.stanford.edu
I came across two Slideshare presentations, one on how texting can be used in the library at:
http://www.slideshare.net/chadmairn/using-text-messaging-to-enhance-library-services
and another on QR codes which I thought would be helpful.  Here is its link:
http://www.slideshare.net/erindowney/qr-codes-for-library-staff As part of the celebrations for the centennial of The New York Public Library, a special 24 hour scavenger hunt was held using different levels of technology.  It served to demonstrate to patrons how forward thinking the library is and how it will progress as we grow deeper into the 21st Century. This article appeared in the New Yorker Magazine
A library guard locking the doors at 7:50 P.M.
The game app in action
Exiting the library at sunrise.
Read more http://www.newyorker.com/online/blogs/books/2011/05/game-night-at-the-nypl.html#ixzz1O1rqXeOI
Came across this new site: World Digital Library-Link is below and in sidebar 5/24/11

This is its mission:
Mission
The World Digital Library (WDL) makes available on the Internet, free of charge and in multilingual format, significant primary materials from countries and cultures around the world. The principal objectives of the WDL are to:
Promote international and intercultural understanding;
Expand the volume and variety of cultural content on the Internet;
Provide resources for educators, scholars, and general audiences;
Build capacity in partner institutions to narrow the digital divide within and between countries
This article discusses the future of print and e-textbooks at college libraries from:

Back to the Future: The Changing Paradigm for College Textbooks and Libraries
By Fred Stielow, Raymond Uzwyshyn
05/25/11
The debate over electronic textbooks and ever-increasing costs for traditional textbooks continues to rage. Part of these Web-era dilemmas ironically involves the willingness to face contradictions from the university's past. Reliance on textbooks is the rub. It can be understood as a legacy of the post-WWII GI bill. Schools needed industrial-strength solutions to handle the unprecedented waves of new students. Publishers stepped to the fore to offer a commoditized solution, albeit with the best of intentions. They would work with a select group of faculty to produce a wide variety of textbooks, they would entice other instructors with free review copies, and students would incur reasonable shipping and costs. Yet, an escalating cycle of problems also ensued. Used book sales and campus bookstores arose to offer schools a ready flow of income. Those creations undermined the publishers' profit potential and growing sense of entitlement. By the end of the 90s, publisher redress resulted in the ever more rapid introduction of "new" editions and an inflationary nightmare for students. Student upset after Y2K led to congressional investigations and, ultimately, the 2008 Higher Education Opportunity Act. HEOA mandated that "… students have access to affordable course materials by decreasing costs to students and enhancing transparency and disclosure with respect to the selection, purchase, sale, and use of course materials." And, the Web's long tail entered the scene. In the early 21st century, viable electronic alternatives appeared with pricing differentials. The Web also brought forth a new player: the online university with its asynchronous classrooms. Since these schools typically lack traditional, interactive lectures, they lend a higher premium to assigned readings. The American Public University System went even further. Under the mantle of its original American Military University (AMU) brand, the school pioneered the underwriting of undergraduate course materials. Instead of a pass-through, textbook costs became part of a bottom-line equation and different type of entrepreneurial scrutiny. The response was led by the most traditional element of our university–the library. It questioned past university models and promoted an innovative three-part growth and diversification strategy–one with broad implications for all of higher education. Electronic Textbooks: Given the evolving state of electronic textbooks and a largely military student clientele, we initially relied on print and mail shipments. In 2006, we transitioned to electronic bookstore operations. What was expected to be a simple electronic conversion process quickly proved to be more complex. We were thrust into incomplete technologies and the paranoid world of textbook publishers. Research revealed the reasonableness of negotiating for a 65 percent discount off print price. Although publisher finance departments squirm, that level was justified by the elimination of used book sales, warehousing, and production costs. Short-term rentals at roughly the same price seemed illogical and were dismissed as options. Operations themselves are still unfolding. The issues of a unified reading experience and digital rights management remain. Attention also increasingly turns to the immense savings from open-access textbooks, which have been growing in both availability and quality. Online Library: The second prong focused on the academic library. The library would be a proactive element in seeding course materials. In our analysis, the university was already paying vast sums of money to capitalize information resources. Why not use them? Research established that much of the barriers drew from a 19th-century research trope, which gave birth to the modern university. It didn't make sense, however, to continue the divorce from the classroom for a teaching institution in the Information Age. Indeed, how could one pretend to teach advanced courses in any discipline without redress to the field's scholarly journals, articles, resources, and databases? And, to what degree do such classes even require a textbook? Our solution was further enhanced by recruiting subject-specialist librarians. They would work in partnerships with faculty–especially as the school explored new programs. Who better to help maintain currency and quality, while uncovering treasures on the Open Web and within the library's own licensed scholarly literature? University Press: The third, and final, element places us within the small, but growing ranks of those re-engineering financially challenged universities. Our same logic persevered with the historical roots to the same 19th-century research orientation as the library. Again, why not orient presses toward direct classroom services? Why should students pay external publishers for anthologies of materials already freely available on the Web? What's more, why should a university or program be forced to buy back the writings of their own faculty? The reply concentrates on niche programs. We look to programs where the faculty is strongest, external course literature weakest, and student demand makes economic sense. Our new AMU ePress then engages faculty as authors and editors along with accompanying librarians for added Web research. Their collective task is to produce the highest-quality electronic textbooks for internal consumption, coupled with flexible, print-on-demand options for students. That is a brief overview of a dynamic electronic bookstore, online library, and e-press "mashup." While still unfolding, results to-date have been encouraging. Quality and currency are enhanced. Textbook inflation has been stalled with annual savings now totaling in the millions. Equally important, such proactive initiatives proffer a fundamental redefinition of university course materials and herald new pedagogies for the Web Age. About the Authors
Students Say Tablets Will Transform College, Though Most Don't Own Tablets
From the Chronicle of Higher Education
May 25, 2011, 12:01 am

Karen Coyle on the Web–
Wasn't sure what this category falls under but Karen Coyle provides lots of links that she has used during her talks, so I have included them here as well as in "links." A lot is included on the "semantic web"
Library Linked Data Examples
Vocabularies
Library Standard Data Elements
Library and Other Bibliographic Data Sets
The Open Metadata Registry
The Open Metadata Registry is a site that allows you to create RDF data sets and vocabularies in a simple user interface. It is the home to the RDA elements in RDF, as well as a number of IFLA sets, such as FRBR and ISBD.
Bibliographic Metadata Elements (non-library)
There are a number of created element sets for bibliographic data. Most are coming from an academic research perspective and favor print materials, primarily journal articles.
Linked Data Organizations and Activities
LITA/ALCTS Linked Library Data Interest Group
Linked Data Examples
Databases
Sample Data
RDA use cases from DCMI/RDA Working Group pages. (Click on links like "Scenario/1″ by each case's heading.) Open Library Author page Author in RDF Work page Work in RDF Edition (Manifestation) page Edition in RDF Open Research Online Article page Article metadata in RDF VIAF Name authority page Name authority in RDF DBPedia Page for Herman Melville Page for Moby Dick Freebase Jonathan Franzen in RDF Book: Freedom in RDF
Some Readings
Particularly for librarians
More technical readings
If you are comfortable with general metadata concepts and perhaps some database management technologies, then this is a good first book on Semantic Web metadata concepts. It's not really for beginners, but I can't find anything that is truly for beginners. So expect to struggle a bit, but the information here is solid.
Although this is in the end a book for programmers, the first half talks about Semantic Web concepts and standards without requiring any programming expertise. So you can learn about RDF, OWL, and see examples of uses. If you program, then the book also gets you started with some of the current Semantic Web tools: Protege, Jena and Pellet.
http://kcoyle.net/presentations/links.htmlCheck it out she has more links along the side
Information overload?
Lifehacker
May 16, 2011 2:00 AM
5 Tips for Managing Information Overload
I'm surprised when I hear people say that they are not suffering from information overload. With so much of information all around, it'd be tough to ignore the temptation of consuming more and more of it. The important thing is to manage the flow of information in your life. Information is power, and you can't do without it. Managing the flow is the key.
1. What are the Information Sources?
The first step towards managing and reducing information overload would be to clearly identify the information sources. It could be your cellphone, your TV, your RSS feeds — knowing how exactly you consume information everyday and how you start.
2. What's Your Priority?
Once you've identified the sources, you need to identify your priorities. And accordingly, you could decide what are the sources you could do away with and which ones are essential to use everyday.
3. Manage Email
Most of you would agree that email is one of the biggest sources of information overload. Hence, keeping it in check in necessary. How? Have a look at our tips for managing email overload.
4. Manage RSS Feeds
Next in the list is RSS feeds. Being productive with RSS feeds is something which I've covered in detail some time ago in my tips for productive RSS news feed reading.
5. Disconnect Often
Finally, disconnecting often from the information sources, be it the computer, PC, mobile phone, iPod or any other such device, is a recommended step if you are serious about taming this beast called information. The History of Computers and "the end as we know it."
Via: OnlineComputerScienceDegree.com URL: http://www.onlinecomputersciencedegree.com/end-of-computers/
I love my Tablet.  It has the potential for bringing information right to the user (so far me).  There are so many pertinent apps, depending upon your interests and expertise, in my case Health Sciences, I even have PubMed, Anatomy, Medical Terminology including the roots of words and much more.  I have a Spanish Dictionary–the possibilities are great and more are being introduced all the time.  Read the blog below by David Cappoli,Candidate, SLA President-electmiclog.com
SLA BLOG,

13 MAY 2011

May 6, 2011 New York Times Makes an Announcement
Publishers Make a Plan: A 'One Stop' Book Site
Published: May 6, 2011
http://www.nytimes.com/2011/05/07/books/publishers-plan-a-joint-one-stop-book-site.html?_r=2&ref=technology#
Wikibon Blog does it again, when it presents an Infographic:  How Big is the  world of cloud computing
Posted by Stuart Miniman in Cloud Computing, Wikibon on April 28, 2011
As part of Wikibon's continuing series of Infographics on Cloud Computing, this time we look at some of the differences between large enterprise and cloud data centers. We have shown you some of the world's largest data centers – scale is one differentiator and another is the architectural implementation. In a recent photo tour of Facebook's data center, Robert Scoble showed that a Facebook's cloud is optimized for power, cooling and streamlined with homogeneous deployments of infrastructure. Cloud Service Providers are a hot topic – as evident by recent acquisitions of Terremark by Verizon for $1.4B and Savvis for $2.5B by CenturyLink (Qwest). Companies like Amazon, Microsoft, Rackspace and others are building massive data centers that are 6-7X more cost effective at scale. With economics like this, it's no surprise that Amazon Web Services is tracking toward $1B in revenue and the overall cloud services market is expected to reach nearly $50B by mid decade. http://wikibon.org/blog/how-big-is-the-world-of-cloud-computing-infographic/  
I connect WorldCat to Open Library by writing OCLC identifiers to Open Library. I am written by Bruce @ OCLC Research. My photo is by Solo, CC BY-NC-SA 2.0.Bot
Mobile Apps – News & Current Events
"The ipl2 Mobile Apps Project is an initiative to direct our patrons to free mobile applications."  Ipl2 describes itself as a public service organization and a learning/teaching environment. The Mobile Apps Project  categorizes " free mobile apps by subject and mobile technology platform." This is helpful for librarians to keep up with emerging technologies.  On this page is listed mobile apps pertinent to libraries for the ipad and android. The link is below: http://ipl.org/div/mobileapps/

Saw this PowerPoint post from Lone Wolf's Blog and found the analysis about the  Library's relationship with Facebook and thought it would be of interest.  Here is the URL :  http://lonewolflibrarian.wordpress.com/2011/04/20/17852/
New App for Speeding Up Shelf Reading and Inventory
BY David Zax Thu Apr 7, 2011
Bo Brinkman, an associate professor of computer science at Miami University in Ohio, is married to a librarian. One day, while listening to his wife talk about the arduous, tedious task of rearranging improperly shelved books, Brinkman got an idea.
The sort of thing, in other words, that gets a librarian hot and bothered.
Is the app a tech-savvy love letter to his wife?
You can see the app in action in this YouTube video posted a few weeks ago.
http://www.fastcompany.com/1745409/an-app-thatll-make-librarians-hot